The Thomas Marcus Huser Fieldwork Fund
'Every community on earth is being deprived of an ancient necessary nourishment. We cannot live fully without the treasury our ancestors have left us. Without the story – in which everyone living, unborn, and dead, participates – men are no more than 'bits of paper blown on the cold wind…'
George Mackay Brown, Portrait of Orkney, (John Murray, London), 1981.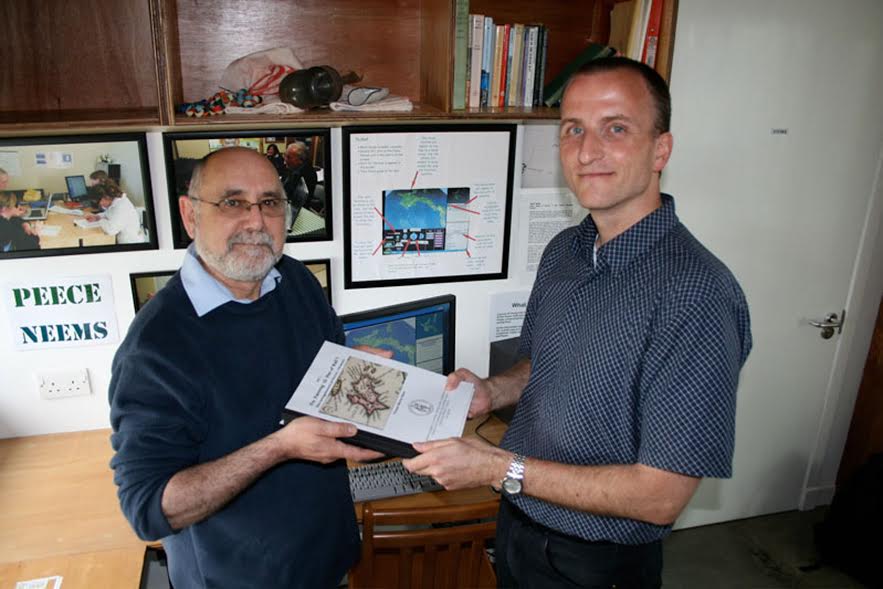 The photograph shows Thomas Marcus Huser (right) presenting his dissertation to John Cable at the Westray Heritage Centre.
Thomas Marcus Huser (1972-2010) was a Norwegian researcher with a great passion for Scottish place names. In 2008 he completed his MA dissertation From 'Fćrevĺg' to 'Pier of Wall'? Early Habitative Names in Westray, the Orkney Isles, which attempted to establish the percentage of older Orkney place names of Norse origin. A full version of his work can be downloaded from the website of the University of Oslo. Although his dissertation and supporting material are in Norwegian, an English summary can be found at the end of Part 2 (Appendix) and the idea behind his work was effectively summarised in an article by Dr Ragnhild Ljosland (https://www.uhi.ac.uk/en/research-enterprise/cultural/institute-for-northern-studies/blogs–exhibitions/mimirs-well-articles/cracking-the-place-name-puzzle.html).
There is no doubt that the highlights of Thomas's research were his trips to Orkney. On his first trip he carried out extensive fieldwork for his project and during the second one he presented a copy of his MA dissertation to the Westray Heritage Centre. This is why a fieldwork fund is the most appropriate way to celebrate his memory while promoting future research in this area.
The Thomas Marcus Huser Fieldwork Fund aims to provide a small contribution of up to £100 towards fieldwork-related costs. All postgraduate students and early-career researchers working in the field of Scottish place names are eligible to apply. Applications must be made to the Scottish Place-Name Society in the form of a cover letter (detailing what the project is about and what the funds will be used for) and a CV, sent by email to the Fund Secretary, Leonie Dunlop: leonie.mhari@gmail.com
The deadline for each year's applications is 31 March. Successful applicants will be notified in May, with an announcement at the Scottish Place-Name Society's spring conference.